I've always got an eye out for inexpensive everyday luxuries - those little indulgences that make me feel like I'm living high without breaking the bank. This is Everyday Luxury #3 - Put it in a wine glass!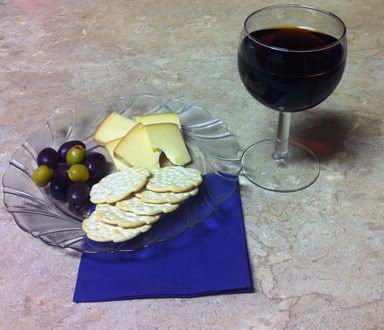 This is my snack this evening, and if you look closely you'll see that tasty beverage is actually regular old
Coca-Cola
. I love enjoying my everyday drinks in a fancy glass, and dishwasher-safe wine glasses are actually quite inexpensive - you can get a set of four at Wal-Mart for under $15 or pick some up for almost nothing at thrift stores.
Reasons why you should put it in a wine glass:
1. It adds that "little something extra"
2. Portion control. I find that I drink slower from a wine glass and since it holds less than most of my normal glasses it helps cut down on high-calorie sippage.
3. I have an instant prop if I feel the sudden urge to give a speech.
4. Since it's dishwasher safe, it's no more hassle than any other glass.
How do you add flair to your daily beverages?