I recently purchased the Stay Put Set from Benefit. This eye makeup trio has three different products in slightly smaller packaging so you can try them all out. It includes:
- 0.11 oz Erase Paste in Medium (regular is .15 oz and $26)
- 0.11 oz Creaseless Cream Eyeshadow in R.S.V.P. (regular is .16 oz and $19)
- 0.09 oz Stay Don't Stray (regular is .33 oz and $24)
My favorite item has to be the R.S.V.P. Eyeshadow. I've never really used cream shadows a lot, but this one has me hooked. As I've said before,
I love natural makeup shades
. R.S.V.P. is a pretty champagne color with just a little bit of shimmer. It's subtle but gives some really nice light shading. Like other cream shadows, it can be worn sheer or bold depending on how/how much you apply.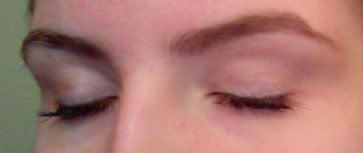 Cream Eyeshadow in R.S.V.P.
Stay Don't Stray worked well for me. I tried it with some more vibrantly-colored eyeshadow and everything stayed put for the day. I've also tried it as an under-eye concealer after reading some reviews about it and found it works fairly well for that too.
The Erase Paste brightener/concealer works well for me on other parts of my face, but I'm not 100% thrilled with it underneath my eyes. It might be that I need a lighter shade there. A tiny bit definitely goes a long way with this stuff!
Want to win your own Benefit Stay Put Set?
Win:
Benefit Stay Put Set (Stay Don't Stray, Erase Paste in medium, Creaseless Cream Eyeshadow in "R.S.V.P.")
To Enter:
Like my brand-new
Facebook page
(Make sure to leave your first name + last initial as they show on Facebook so I can verify)
For bonus entries (leave a comment for each bonus activity completed):
Subscribe to my feedburner emails
Follow me on
Twitter
Follow me via Google Friend Connect
Enter my Avon Glazewear Dimensions Lipstick Giveaway
(ended 4/03)
The last day to enter the giveaway is Sunday, April 10th (04/10/11). I will use random.org to choose a winner and will contact him or her by email (please leave an email if it is not visible in your profile).
Note: I am not affiliated with Benefit in any way and did not recieve anything for this review/giveaway. All opinions are my own. It's just me, folks!