"Without music life would be a mistake."

~ Friedrich Wilhelm Nietzsche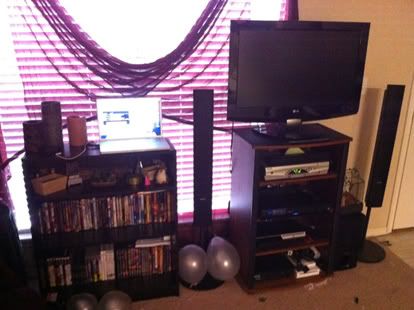 This review is part of a series based on the nightclub-themed birthday party I held on 02/26/11. Over the next week or so I'll be posting several of the ideas and items that really helped make it a success!
What would a dance party be without great music? While planning out what we wanted to play for the night club party, we ran into a bit of a blockade: if we bought all of the songs we wanted, we'd have to pay a lot, which we'd rather not do. We didn't want to download them illegally. We also didn't want to use a dance radio service (even though I
love
Pandora) because of any commercials or songs we didn't want.
What to do? The answer:
Rhapsody
online music service. The cost? Zero (they offer a 14 day free trial), but we had such a good experience we might keep it if we throw more parties like this.
Rhapsody lets you create playlists and play music from their HUGE database. We were able to get every song we wanted, make multiple playlists, and even edit them on the spot or change songs.
We hooked up a computer to our sound system and Rhapsody worked like a dream. The songs buffered well and the music kept everyone dancing all night long!
Rhapsody is now on my must-have list for any party, and it should be on yours too!
I am not being compensated in any way for this; I simply want to let you all know about how great Rhapsody was for party music.