"I will not waste chalk."
~ Bart Simpson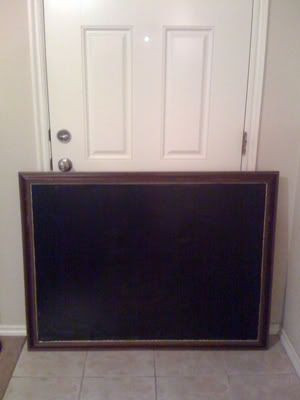 For my nightclub party on Saturday I wanted something interesting for a particular wall and decided to do a chalkboard. It's large, stark décor and people can draw/write on it as they please - which could get interesting as the night goes on!
Chalkboard wall decals in the size I want are a bit too expensive for this party, and because we're renting I can't actually paint the wall. Instead, I decided to make my own framed chalkboard to hang!
Many months ago I picked up this picture for $1 at a local thrift shop.
It never got hung up, so it's been sitting around taking up space. Time to transform this baby!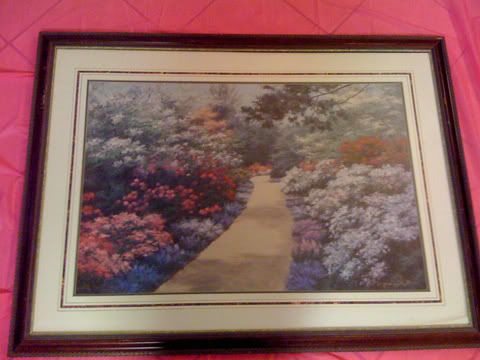 It's hard to tell in the picture, but the whole thing measures aprox. 3'4" x 4'4"
I used FolkArt Chalkboard Paint:
On the first coat, I started out trying to be too perfect.
I figured I should have a fairly good spread to act as a base layer, but I ended up just pushing paint around on the glass, causing formed ridges between strokes. I ended up just painting whatever would stick in a thin layer, which turned out to be the right idea: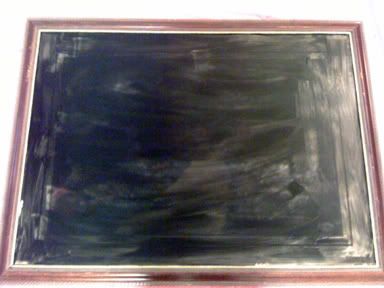 See how the picture is still kind of visible through the first coat?
I thought I'd need three coats, but two turned out to be fine.
I might still add another layer tomorrow if I'm feeling frisky, but it looks pretty good after just two: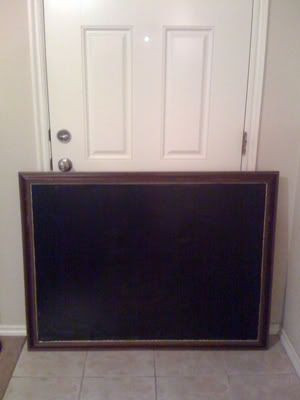 So there you have it! A large framed chalkboard for under $10. In a few more days it'll go up on the wall and I'll get some more pictures for you all!