I've always got an eye out for inexpensive everyday luxuries - those little indulgences that make me feel like I'm living high without breaking the bank. This is Everyday Luxury #2 - Lancôme Hypnôse Mascara
.
Having one or two really nice products in your makeup routine can help you feel (and look) glamorous every day. Often these makeup counter treats aren't as expensive as you might think, especially if you consider how long they last.
Lancôme Hypnôse Mascara - $25 for a tube that usually gives at least six months of daily use for me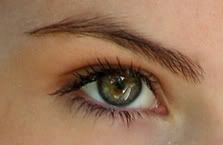 Close-up from a picture where I'm wearing the mascara - no eyeliner needed!
I've been a fan of Lancôme for over a decade now - their high-quality Dual Finish foundation has always been my one constant makeup splurge even if everything else was the cheap stuff. They often do a free gift or offer "purchase with purchase" specials where you can get a pre-set assortment of products for free or relatively cheap; this can include full-size lipsticks, eyeshadow pallets, mini perfume bottles or any number of other things. They almost always include a tube of mascara, usually their standard Definicils, and I used all of this to round out my makeup collection.
One time, however, the mascara was different - a new product called "Hypnôse". After using it just a few times I was hooked. This mascara not only darkened, lengthened and volumized with only one coat, but it actually curled my lashes for me. It complements my eye shape extremely well, doesn't smudge or flake, and looks perfect all day/all night. Since then it has been my mascara of choice, and though I've tried others, nothing tops my Hypnose.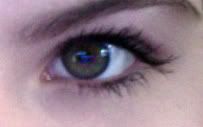 Another close-up from another picture - again, no eyeliner!
Recently Lancome put out a new mascara called Hypnôse Drama. While similar to Hypnôse, Hypnôse Drama has a new formula that just doesn't thrill me the way my regular Hypnôse does. Often when a line comes out with a "New and Improved" product, they discontinue the original; fortunately for me, Lancome decided to carry both!
Hypnôse Mascara - $25 at
Lancome.com
or check out your local Lancôme counter
Because I love this mascara and wish to share the joy, I am offering one lucky person the chance to try it. Enter below to win a full-sized Lancôme Hypnôse Mascara!
(Note: Lancôme is not sponsoring this in any way; I just love it that much and want to spread the word!)
To enter:
Tell me what shade you'd like if you won! The color choices are Brown, Black and Deep Black.
After you've done that, you can gain bonus entries by doing the following and letting me know in a comment(1 entry each):
Follow me on Google Friend Connect (on the right side of the page)
Follow me on
Twitter
Subscribe to my feedburner emails
Be sure to comment once for each entry. I will use random.org to pick a winner. Make sure to leave me an email to contact you if you win if it's not visible in your profile! The last day to enter is this Sunday, February 20th (02/20/11).